Skip to Content
We Offer Rentals for Every Occasion
When it comes to throwing a party, you want to make sure you get everything right: the lighting, the music, the decorations, and so forth. This can be especially frustrating when you want to rent a large party tent and have a special event outdoors. After all, if the weather is nice, why spend so much time indoors? Making sure the party is just right can be difficult without some proper guidance and advice: what kind of chairs should I get? Do I need a stage? How high should it be? What kind of cloth is best? All these questions and more are entirely legitimate and deserve an answer, which is why our Special Events team provides our party rental services throughout the Bay Area, including San Jose. No matter what the occasion is or the theme of your party, we're here to make your party better than ever!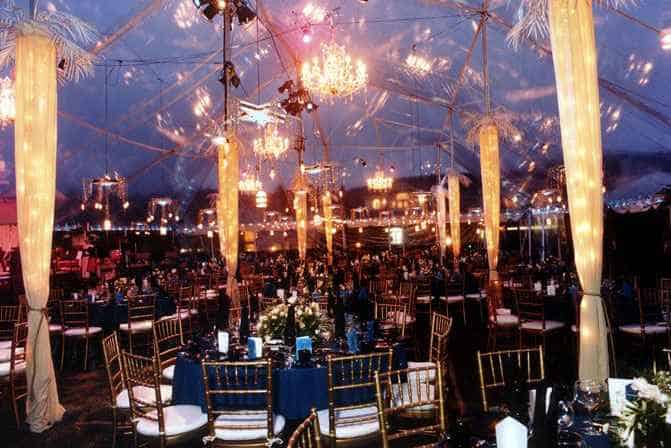 Designing Your Perfect Party
If you're putting in this much effort to have a great party, then you probably have a vision in mind. It may not be very detailed, but you have an image and expectations for your party, and we'll make sure to deliver as you consult with our expert staff.
The Ambiance and Atmosphere
Say you want to set the ambiance and atmosphere with your lighting: we've got you. Do you want the entire tent to be illuminated? Are you just looking for certain areas? What kind of atmosphere are you trying to create? You could have crystal chandeliers for a hint of elegance, or special effect lights such as LED lighting, fog machines, or bistro lights. Trying to decide on the tables and chairs? We'll walk you through that. If you need rectangular tables; smaller, round tables for a more intimate party, or just a few strategically-placed tables for refreshments, we can discuss our options. The same goes for chairs: specialty chairs, bar stools, kids' chairs, benches, and more are available! In other words, we've got something to suit whatever kind of party you want to have. Our knowledgeable staff will make sure that you are 100% satisfied by the time we've walked you through.
Choose Special Events For Your Party
Servicing all of Northern California, including San Jose and the Bay Area, Special Events is available for all your party rental needs now! We've been in the business for more than 30 years, developing a rock-solid reputation throughout the community. With an eye for detail, practical experience, and maximum efficiency, we're your to-go choice for all your rental needs. If you need a company to help throw the best party you've ever had, then don't hesitate to get in touch with us: we make sure that every party is a success and is a lot of fun for everyone involved.
Don't wait: give us a call at 925-605-2900. We look forward to working with you!
Get Your Free Quote Today!